The JSP Guide Collecting BSA National and World Jamboree Shoulder Patches 641 Pages [FREE INSTANT DOWNLOAD AT CHECKOUT]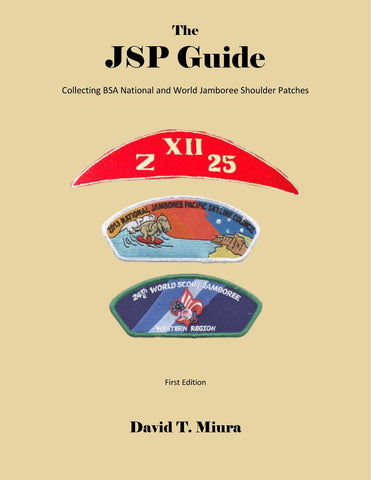 The JSP Guide Collecting BSA National and World Jamboree Shoulder Patches 641 Pages [FREE INSTANT DOWNLOAD AT CHECKOUT]
---
Template By Froo!
Boy Scout Prices Realized Guide - The Complete Collection - All 11 Books On 1 CD
Free PDF Download At Checkout
The earliest attempts
at
catalogu
ing
Jamboree Shoulder Patches (JSPs) were
the
collecting guidebooks
A
History of Scouting Through Insignia:
Arapaho I
(1976
)
by Albertus Hoogeveen & Richard Breithaupt Jr,
and
Local Council Identification of the Boy Scouts of America
(1979
)
by Prince Watkins.
Neither resource focused
exclusively on
JSPs
, however, and the successor CSP
catalogs,
An Aid to Collecting Selected Council
Shoulder Patches with Valuation Guide
by David Franck, Don Hook, Jim Ellis,
and
Tom Jone
s
,
made a
deliberate decision to exclude
J
SPs from
BSA National Jamborees and World Jamboree
s
from their listings. In
1998, John Hice published the illustrated
BSA National Jamboree Shoulder Insignia:
A
H
istory in
C
olor
that for
the first and only time captured
full color images of JSP issues.
In the intervening 25 years, no attempt has been made to document JSP issues
until the present undertaking.
Although many would love to see a fully illustrated
JSP
G
uide like the Hice book, that
requires
a
tremendous
effort that
c
ould take years to prepare
. When Hice
published
his book covering BSA National Jamborees from
1937
–
1997, it totaled 1500 JSPs. The current listing has
over
1
4
,000 items
, thanks to the current practice of
issuing council sets
, limited editions,
and fundraisers
. So this simple list
ing will have to suffice for now.
The scope of this guidebook includes JSPs for BSA National Scout Jamborees and World Scout Jamborees
only. E
xclude
d are
JSPs from foreign national or regional jamborees (
e.g.
Nippon Jamboree, Asia Pacific
Jamboree, Scottish Jamborette, Eurojam, Jam de Neige, etc.)
, although these issues
are already
cataloged
in
An Aid to Collecting Selected Council Shoulder Insignia
.
The JSP Guide has been organized into two sections; the first listing the items by Jambore
e, and the second
listing them by council. Staff, spoof, and private issues are only listed under their respective Jamboree and not
in the council section.
Just like the
Aid to Collecting Selected Council Shoulder Insignia
makes exceptions to
include
JSPs
that look like CSPs, this guide will do the opposite and list CSPs that look like JSPs but are not.
These are primarily CSPs for council Jamboree events occurring in a National or World Jamboree year.
Anything in this guide that is also listed in the
Aid t
o Collecting Selected Council Shoulder Insignia
will be
cross
-
referenced with their CSP issue
code
for convenience.
You may also be interested in.....
Froo Frooition .froo.com | selling manager applications, eBay design, eBay store design, eBay shop design, eBay template design, eBay listing design