100 Years of Eagle Scout Patches PowerPoint [Free Instant PDF Download
100 Years of Eagle Scout Patches PowerPoint [Free Instant PDF Download]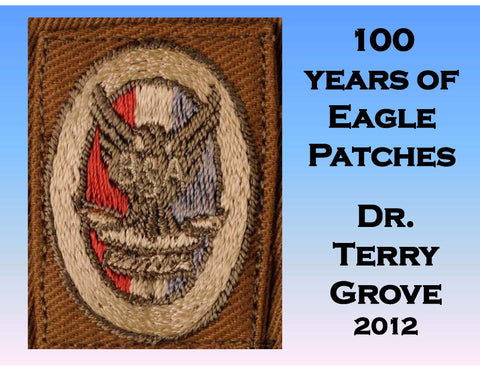 100 Years of Eagle Scout Patches PowerPoint [Free Instant PDF Download]
---
Template By Froo!
Boy Scout Prices Realized Guide - The Complete Collection - All 11 Books On 1 CD
The first Eagle Scout was awarded in 1912. This year the BSA is celebrating the centennial of the Eagle Scout award. Dr. Terry Grove is the recognized expert in this field and literally wrote the book on Eagle Scout memorabilia in 1990. With subsequent editions he updated the material and broadened the categories included. This year he is coming out with a centennial edition of his book and is tackling the identification of the Eagle Scout patches down to the weave and stitching.

The new book titled 100 Years of Eagle Scout Patches has been published to share his knowledge of Eagle Scout patches and to give collectors a unified classification system for identifying the different types and varieties that have been issued over the last 100 years. The book starts with the first Eagle Scout patch issued in 1924 and goes all the way up to the 2012 centennial issue. In this book Terry goes into great detail with close up images examining the cloth type, weave and thread variations that make each issue distinctive. To collect Eagle Scout patches you are looking at 12 major types and about 100+ variations. For any Eagle Scout this would be a great book to celebrate the Eagle Scout centennial of 2012.
You can watch the presentation that Terry Grove gave at the 2012 Dallas TOR where I recorded his PowerPoint slideshow at https://youtu.be/pztaL3fx8jw.
You may also be interested in.....
Froo Frooition .froo.com | selling manager applications, eBay design, eBay store design, eBay shop design, eBay template design, eBay listing design